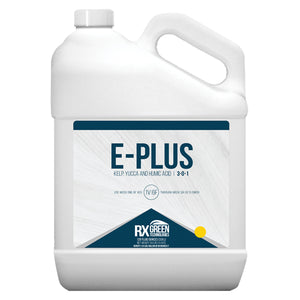 Description
RX Green - E-PLUS - Additive Energy
Boost Plant Performance & Stress Resistance With E-PLUS!
E-Plus uses well-known and time-proven ingredients to bring you a product that will encourage strong growth and overall exceptional health in your plants. In addition to the nutritional benefits, E-Plus can be used to increase nutrient uptake and boost tolerance to common stressors like drought.
Calcium - is vital to healthy plant growth throughout all the growth stages. Plants need large amounts to form membranes and strong, thick cell walls (this thickness provides pathogen resistance and strong stalks).
Humic Acid - works as a chelating agent to micronutrients. It gives the plant the ability to more readily and efficiently uptake the nutrients.
Kelp - contains an abundance of goodness from the sea in the form of naturally occurring growth hormones (cytokinins, auxins, gibberellins). These compounds aid in cell division and enlargement and in the development of chloroplasts.
Yucca - contains natural wetting agents (saponins) that break the polarity of water molecules. This translates into better water penetration of soil and soilless surfaces and improved water dispersion at the roots. Together, these actions make the nutrients more readily available for quick and efficient uptake by the plant. Saponins also help with heat and drought related stressors.
E-Plus has been designed to be added to Grow A/B and Bloom A/B, but it can be used on its own or with other base nutrients.
Suggested Uses: Use throughout the plant's growing cycle to alleviate stress and to optimize growth and plant health.