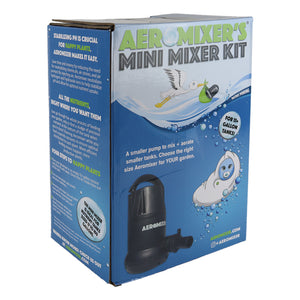 Description
Stabilizing pH is crucial for happy plants. AEROMIXER makes it easy.
AEROMIXER is a pump made specifically for growers, by growers, with a dual purpose: to mix nutrients and aerate feeding solutions with just one pump. AEROMIXER makes feeding large and smaller gardens a breeze and reduces the need for air stones, air pumps, and pH up and down additives.
Aeromixer's Mini Mixer Kit is the same great product in a smaller size. We have redesigned Aeromixer to meet the needs of indoor growers and smaller scale farmers. Perfect for tanks as small as 15 gallons, the Mini Mixer still utilizes our patented air injection system to provide optimal aeration while mixing.
The Mini Mixer is perfect for small tanks between 15-100 gallons. This Model is specifically designed to be compatible with Flexi-Tanks.Technical SpecificationsPower
1/6 Horsepower Motor.
Patented AEROJET technology.
Pulls 2.0 Amps
Pumps at up to a 20-foot lift.
Capacity
Moves 1,600GPH
Pumps up to 1/4-inch solids.
Easily mixes tanks 15+ gallons.
Effective in tanks up to 3,000 gallons.
Specifications
Nominal Voltage: 115V/60HZ
Output Power: 1/6HP
Motor Full Load: 2.0A
Protection Type: IPX8
Max Height: 20ft
Max Submersion Depth: 23ft
Max Conveying Amount: 1600GPH
Max Fluid Temperature: 95?
Includes
AEROJET with heavy duty braided nylon air hose.
AEROMIXER 1/6HP pump.
Detailed instruction manual.
Garden hose adapter.
Universal cut to fit adapter.
Nylon lowering rope.