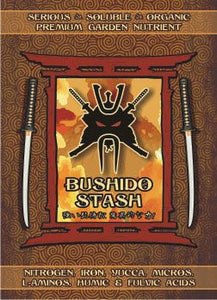 Description
All Day Organics presents Bushido Stash. This dry organic supplement is 100% soluble to provide maximum results in your indoor garden.
The organic compounds found in Bushido Stash boost crop yield and plant growth. Soluble blood, amino acids, Humic acid, Fulvic acid, and Yucca Schidigera Root combine to fight drought and rot, while simultaneously enhancing your garden's output and health.
Features:
- Improves the yield of your crops organically
- Assists in activating slower acting organic nutrients
- Extremely fast organically chelated nitrogen, iron and trace minerals
- Helps revitalize delepted super soils
- Avoids pitfalls of synthetic products such as root build-up and lockouts
Contains a blend of:
- Soluble blood, not found anywhere else!
- Amino acids for increasing yield and plant growth
- Humic and Fulvic acids for vitality and micro mineral balance
- Yucca Schidigera root to protect against drought and rot
This dry supplement comes in an 11 ounce bag.