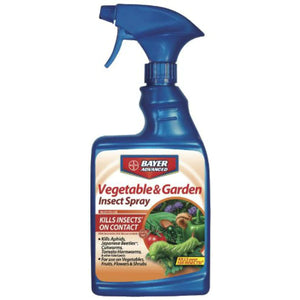 Description
This Ready To Use Vegetable Garden Insect Spray kills outdoor pests on contact. Kills aphids, japanese beetle killer (adult), cutworms, tomato hornworms other listed pests. Keeping your vegetable garden and lawn free of listed pests has never been easier.
Size: 32 oz

Ready-to-use, no mixing, no measuring

Fast acting, kills insects on contact

Quickly stops harmful listed insects before they destroy vegetables

May be used up to day of harvest on tomatoes

Kills household nuisance pest outdoors.