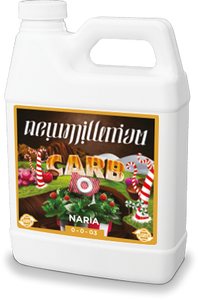 Description
New Millenium CARB O NARIA. 
AGGRESSIVE "STOCK-PILING" OF ENERGY RESERVES WITHIN THE PLANT:
The primary focused technology we present is what we refer to as plant available carbohydrates. These molecules are available in such a way that allows for exponentially accelerated performance and stimulated effect once introduced into the plant system. Our carbohydrates initiate aggressive "stock-piling" of energy reserves within the plant, as well as displacement back into the rhizosphere.
N: 0.0 | P: 0.02 | K: 0.3