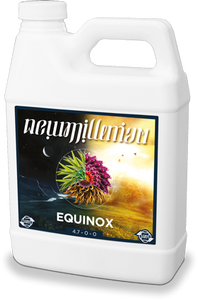 Description
New Millenium Equinox. 
THE CONTINUOUS PART A FOR ALL VEG/BLOOM SCHEDULES: 
This essential component is the base plant food, providing copious amounts of Nitrogen, Calcium, and complementary elemental traces. As the core of the New Millenium Fertilizer System™, Equinox is concentrated and refined to yield a product that is workable in most types of systems and low in residual salts.
N: 4.7 | P: 0 | K: 0