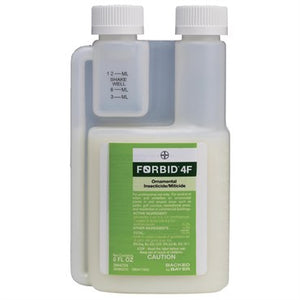 Description
Forbid® 4F Miticide
- 8oz bottle

Offers outstanding knockdown and residual control of mites and all stages of whiteflies for four to eight weeks. Excellent translaminar activity for easier coverage and has minimal effects on beneficial insects when used according to label directions.


REI: 12 Hrs
Active Ingredient: Spiromesifen
Signal Word: Caution
Rate: 1.4 to 4oz per 100gal
Controls: Spider mites, Tarsonemid mites, Whiteflies.