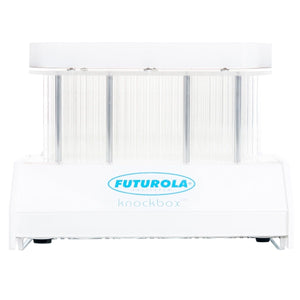 Description
Futurola Knockbox 100 [Base + Standard Filling Kit]
Product Code: 333001
More information about Futurola Knockbox 100 [Base + Standard Filling Kit]
The Futurola Knockbox is compatible with more than 16 varieties of Futurola (and other brand) pre-rolled cones that range in size from .5 gram pre-rolled cones up to 2-gram pre-rolled cones. Futurola has developed the Knockbox over many years to provide the highest level of client satisfaction.
This generation of the Futurola Knockbox pre-roll machine 3 improves upon the huge popularity of Futurola's first original Knockbox commercial pre-roll machines, now allowing you to fill 100 pre rolls in 2 minutes flat.
This improvement on the massively popular Futurola roller reliably produces premium rolls packed at just the right consistency; not too tight, not too loose, making them the most even burning pre-roll possible.
Included with the Knockbox:
Knockbox base
Controller
Power adapter
Mix spill tray
Standard filling device
36mm mix tray
Unload station Plus (Standard/Reefer size)
Standard cone sizes (Classic white + Dutch brown paper)
1 1/4 Size 84/26 Pre-Rolled Cones - 0.5 Gram Capacity
Slim Size 98/26 Pre-Rolled Cones - 0.7 Gram Capacity
King Size 109/21 + 109/26 Pre-Rolled Cones - 1.0 Gram Capacity
*Crown diameter ranging from 11-12.5mm
16
Dimensions & weight
Base dimensions: 16" L x 8" W x 5" H
Base weight: 10 lbs
Base & Filling kit dimensions: 16" L x 14" W x 15" H
Base & Filling kit weight: 20 lbs
USER GUIDE