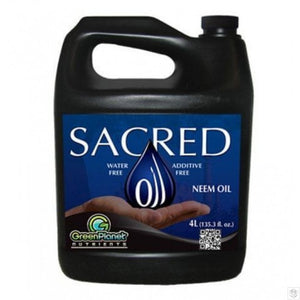 Description
Green Planet Sacred Oil: What is it?
Sacred Oil is a cold pressed extra virgin oil from the seed of the neem tree (Azadirachta Indica). The neem tree is native to India and has been held in high regard for centuries as a village pharmacy or wonder tree and in face the neem tree and its varied parts are a foundation in many ayurvedic remedies.
All parts of the neem tree display medicinal or beneficial properties but only the oil from the neem seed is used for Sacred Oil.
How does it work?
Sacred Oil leaves a natural shine without clogging the stomata on the leaves. It's important to keep the leaf surface clean to allow for better gas exchange. Other lesser leaf shines clog up the pores and leave a residue slowly suffocating the plant.
Neem Oil works great as a leaf shine but also works as an insecticide and fungicide. As an insecticide it works by not allowing the insects to reproduce and reducing their appetite, so although it may not be a contact kill, the pests will be eliminated over a short period of time. Sacred Oil is safe to use being 100% biodegradable.
Why it works?
Sacred Oil works because it is a natural cold pressed extra virgin neem oil harvested from organically cultivated neem trees maintaining the integrity of the beneficial properties.