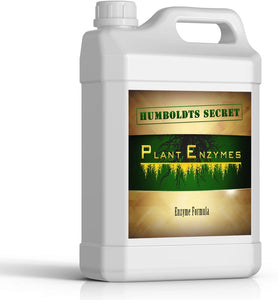 Description
Plant Enzymes is a highly concentrated enzymatic formula with a guaranteed content of 7,000 units/ml of active enzyme, making Plant Enzymes the strongest on the market!
GREAT FOR HYDROPONICS AND COCO SUBSTRATE: Hydroponic and coco substrate benefit greatly from enzymes, as these typically have few microorganisms that digest dead root matter. Our formula is compatible with all growing mediums.
PLANT ENZYMES REJUVENATE SOIL: If you are reusing a soil cultivation, Plant Enzymes acts as plant food that will rejuvenate the soil by breaking down roots from the previous plant.
LOW USAGE RATE: Our strong and highly concentrated enzymatic formula contains 7,000 units of active enzyme per milliliter, which results in a very low usage rate of only 1ml/gallon. Humboldts Secret Plant Enzymes is one of the strongest ones out there!