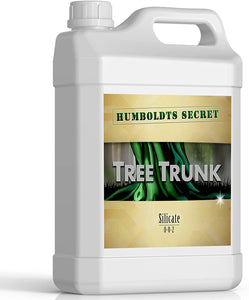 Description
Humboldts Secret Tree Trunk
PREMIUM POTASSIUM SILICATE-BASED PRODUCT: Tree Trunk features advanced nutrients that will help the plants natural ability to strengthen its cell walls, resulting in thicker stalks and better branch development, as well as abiotic stress tolerance!
PLANT STRENGTH: Watch your plants grow by applying Tree Trunk liquid fertilizer. Hydroponic nutrients make our product suitable as quality indoor plant food.
ABIOTIC STRESS TOLERANCE: Tree Trunk is needed to ensure yield stability under abiotic stress and minimizes the environmental impacts on crop production.

COMPATIBLE IN ALL GROW MEDIUMS: This formula makes for an excellent indoor plant fertilizer suitable for all grow mediums. The usage rate is between 2.5-5ml/gallon (5ml is approx. 1 teaspoon) throughout the entire grow cycle.