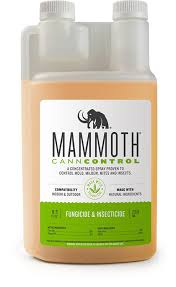 Description
Discount Code: "SALEONMAMMOTH" 
A concentrated spray proved to control mold, miler, mites, and insects, introducing Mammoth Microbes CannControl. It is more cost-effective, more powerful, and more functional than any other fungicide or insecticide.

Mammoth Microbes CannContol is a contact and vapor action fungicide, miticide, and insecticide. This product was formulated for the elimination of fungus, mites, and insects. CANNCONTROL is made of 100% all-natural ingredients and is compatible for use in indoor and outdoor cultivation. Our Research and Development team has lab and greenhouse tested this product and proven its effectiveness in preventing and eliminating: Powdery Mildew, Botrytis (Gray Mold), Mites, Aphids, Whiteflies, Thrips, and Fungus Gnats

CannControl is proven to eliminate:

Powdery Mildew
Botrytis (Gray Mold)
Mites
Aphids
Whiteflies
Thrips
Fungus Gnats

All-In-One Product - IT DOES MORE

100% All Natural Ingredients

Minimum risk pesticide leaves zero toxic residues on plants, which means it's safe for testing. Exempt from registration with the U.S. Environmental Protection Agency under FIFRA section 25(b) as a minimum risk pesticide.

Target Proprietary Formulation

Our formulation utilizes specific compounds found in thyme oil, which have been proven highly effective in fungus and pest prevention and control.

Safe & Compatible

Mammoth CannControl is safe for use throughout the veg and bloom phases of plant growth. Lab and greenhouse tested by a Research and Development team.