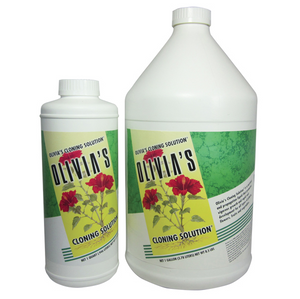 Description
Olivia's Cloning Solution, just like its sister product Oliva's Cloning Gel, was developed in the early 1990's when the hydroponic industry was in its infancy. These products met the need for quality products then and continue to meet that same need today. This concentrated liquid contains a root stimulating plant hormone derived from the White Willow (Salix alba) tree, Indole-3 butyric acid, and NPK nutrients. These ingredients provide new cuttings what they need for a spectacular start and continued robust growth.
This cloning solution works well for hydroponic and soil applications as well as with root cubes and cloning machines. It can be used daily to root and feed cuttings.
Suggested Uses: Use in propagation to promote rapid and robust root development and growth.