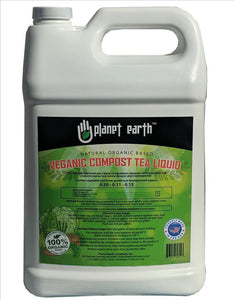 Description
Planet Earth Veganic Compost Tea
PARTIAL NUTRIENT LIST
Non-GMO Organic Soybean Meal, kelp meal, alfalfa meal, volcanic ash, rock phosphate, langbeinite, neem seed meal…ETC.
USAGE INSTRUCTIONS
Use as an Organic Additive: Use Organic Veganic Compost Tea in both veg and flower stages. Use with current nutrient regimen every feed and watering at a rate of 1 tbsp. (15ml) per gallon of water.
For clones/seedlings: Use 2ml per gallon.
For Flush: Use 5ml per gallon.
As a Stand-Alone Fertilizer: Use 60ml per gallon of water for each feeding.