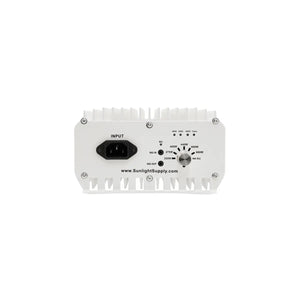 Description
The Sun System 1 DE ballast is Etelligent compatible Electronic Ballast with advanced 105 kHz microprocessor is designed specifically to drive DE lamps at a sustained peak performance. The new Sun System 1 DE series provides premium components and superior construction for the professional horticultural enthusiast. The thermally optimized non-air cooled aluminum housing does not require a cooling fan. The internal ballast programming will protect unit in cases of open circuit, short circuit, over/under voltage, and high temperature exposure. This ballast has a built-in circuit breaker.
The Sun System 1 DE Etelligent Compatible Electronic Ballast has dimmable/selectable wattage, turbo and built-in green LED lights for easily identified self-diagnostic performance codes. The low current, staggered ignition delay feature eliminates circuit inrush overload and protects the lamp for increased lumen maintenance.
This ballast's dual universal lamp cord receptacle is compatible with all Sun System brand reflectors as well as other branded reflectors. A 15 foot Etelligent signal wire and a Convertible Smart Volt Dual Ferrite Power Cord 120-240 volt 6.5 ft with 120 and 240 volt plugs is included.
The Sun System 1 Etelligent Controller Kit (sold separately), allows up to 400 Sun System 1 ballasts to be daisy-chained together.
The Sun System 1 DE Etelligent Compatible Electronic Ballast is CSA certified and compliant with both FCC Article 18 Part A (governs commercial use) and FCC Article 18 Part B (governs residential use) as tested by an independent US testing lab in a true as used configuration.
Features
Internal built-in circuit breaker
Dimmable/selectable wattage and turbo
Built-in green LED lights for easily identified self-diagnostic performance codes
Low current, staggered ignition delay feature eliminates circuit inrush overload and protects lamp for increased lumen maintenance
Dual universal lamp cord receptacle is compatible with all Sun System® brand reflectors as well as other branded reflectors
15 foot Etelligent™ signal wire and a Convertible Smart Volt® Dual Ferrite Power Cord 120-240 volt 6.5 ft with 120 and 240 volt plugs is included
Compliant with both FCC Article 18 Part A (governs commercial use) and FCC Article 18 Part B (governs residential use) as tested by an independent US testing lab in a true as used configuration
What's in the Box
[1] x Sun System 1 DE Etelligent Electronic Ballast - 600W | 120V - 240V | SE / DE | HPS MH