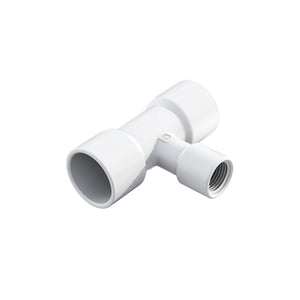 Description
The Bucket Company's 1/2" Female Pipe Thread (FPT) to 1" PVC Slip Tee fitting allows cultivators to assemble drainage systems with PVC hard-pipe for the 1.2 Gal, 3 Gal, 5 Gal, and 10 Gallon Ez-Pz Buckets/Systems as well as the 15.5" and 22" Ez-Pz Runoff Trays when using the 1/2" MPT Elbow Fitting.
Rated and works with 1" Schedule 40 PVC and adapts pressure pipe from standard 1/2" Female Pipe Threads (FPT). 
PTFE thread tape (Teflon Tape) is recommended for threaded joints and connections.
- Features & Benefits: 
Assemble with Ez-Pz Buckets or Ez-Pz Runoff Trays
Provides uniform and organized drainage assembly