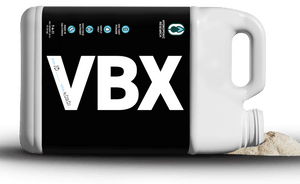 Description
Hydroponic Research VBX
GET THAT EXTRA GET UP AND GROW.
It's finally here. The first ever two-in-one soluble plant food and probiotic. Upping your potency per pound has never been this easy.

MORE VALUE PER FEED.
Combining the growing power of VEG+BLOOM, STAX, and +LIFE, this simplifies everything.


MORE CHEMISTRY PER BOTTLE.
It all comes together to maximize mineral uptake for superior growth at all phases.

LEADING THE WAY TO LED.
A future-ready blend of proprietary nutrients were developed to work best in LED spectrum.


UNLIMITED POTENTIAL. LIMITED RELEASE.
This small-batch nutrient is only available direct from us. Grab a bottle while you can.


Developed to work best in LED spectrum and combining the growing power of multiple products into one bottle, the extra Ca and Mg will push your potency per pound like no other nutrient out there.